Marion County Coordinating Council presents $9,000 check to Harvest Hope Food Bank
February 25, 2020
Source: SC Now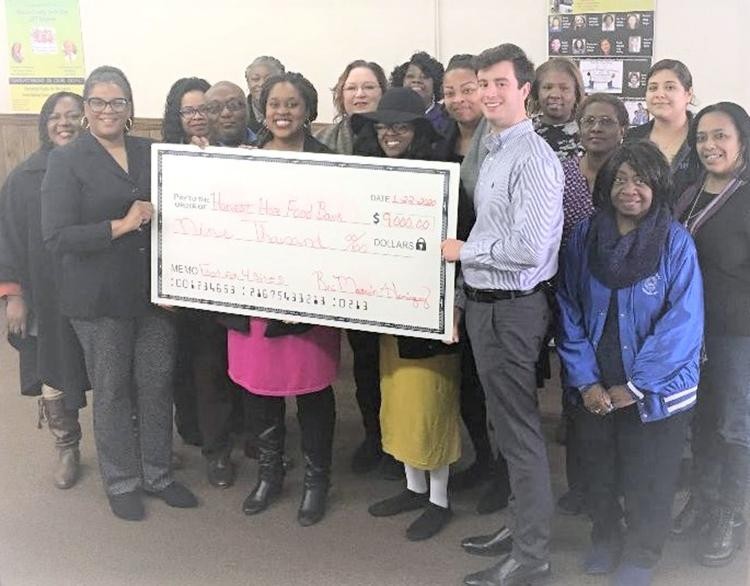 MARION — Marion County Coordinating Council is participating in a nationwide BUILD Health Challenge Program to fight child obesity in the area.
MCCC Chairman Rev. Marvin Hemingway said the program creates five Creating Healthy Food Environments (CHFE) sites for nutrition education classes and produce pick-up.
The sites will be located at Door of Hope Christian Church, Mullins Housing Authority, Gresham Free-Will Baptist Church, Sellers Resource Center and Bethel AME Church.
"It is a blessing to receive a $250,000 grant to service, support and help families of Marion County," Rev. Hemingway said. "Through this grant MCCC will also provide free transportation to these classes from Pee Dee Regional Transportation Authority as well as providing free community transportation routes throughout Marion County for all citizens."
MCCC recently presented a $9,000check to Harvest Hope Food Bank of Florence Executive Director Nicole Echols, establishing four food pantries in Marion County. Sellers Resource Center and Helping Hands Free Medical Clinic in Mullins will operate the second Wednesday of each month at 12 p.m. St. James AME Church and Bethel AME Church will operate the third of each month at 12 p.m.
Hemingway said it makes his job worthwhile and inspires to more citizens.
CHFE Program Coordinator Kelli Williams said she is excited to play a role.
"I am very excited to partner with Harvest Hope Food Bank for the Marion County CHFE Project, which is funded through BUILD Health," she said. "We are excited about the great impact we are about to achieve in the efforts in fighting childhood obesity and educating our families communities on healthier habits as a whole."
MUSC Health Marion Medical Center Assistant Chief Executive Officer Spencer Twigg said the hospital was eager to take on the task of addressing pediatric food insecurity in Marion County.
"As the only hospital in the county, MUSC understands the unique challenges present in the patients we serve," he said. "By collaborating with community partners, we expect a longstanding result our county can be proud of."