The Battle of Hunger
Nov 9, 2021
By: Erinn Rowe, CEO
On November 11th, we observe Veteran's Day to pay respects to our courageous service men and women who have protected our freedom in the Armed Forces. What you don't necessarily know is that after years of dedicating their lives to our country and our safety, many of these same brave service members return home and are forced to fight again on another front: the battle of hunger. 
Both of my grandfathers and many of my family have served in the military. I have grown up listening to their stories of service.  My mother's father, John Fletcher Segrest, is one of the people who showed me the love of farming and cooking. He would also never eat spam. I once asked him why, because at 10 years old, watching him fry up a piece of spam in his heavy black cast iron skillet, and biting into the hot sizzling spam between his homemade biscuits and watermelon rind preserves was about the best thing I had eaten up to that point. 
Fletcher, my "Grandad", was a Navigator on a B-17 bomber was shot down during World War II on April 17, 1943.  A German farmer found his destroyed plane and held him hostage with a pitchfork until the farmer could turn my grandfather into the German Army as a prisoner of war.  He survived two years in the German POW Camp, Stalag 3. He earned a Purple Heart and two Oak Leaf clusters for his bravery and dedication to this country.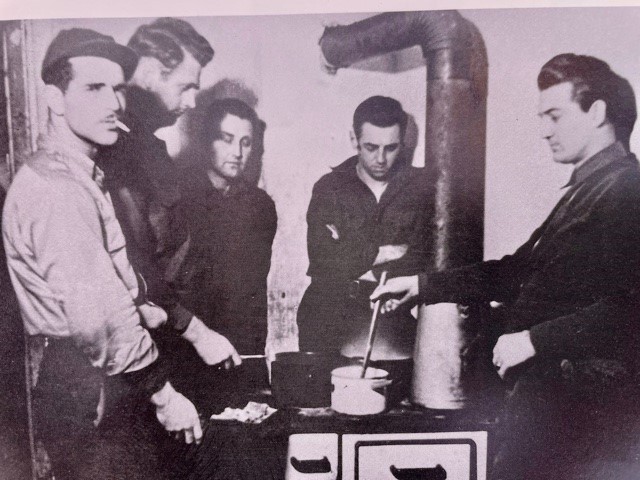 My grandfather was the "cook" of the camp. The Germans gave them bread, a few vegetables, and thin soup called "Green Death Soup", sometimes made with weeds. Fletcher was resourceful and would gather the Red Cross donations given to the POWs, typically canned goods such as prunes, sugar, coffee, pork loaf, soup powder, eggs, and most of all: Spam.  He would collect the odds and ends of the camp kitchen and attempt to make the scarce ingredients stretch farther and taste good.  Spam was a key ingredient in most meals.  Despite his creativity, the soldiers were always hungry.
Once rescued, for the remainder of his life Grandad never ate Spam again.  There were too many memories of him starving in the camp associated with that particular food. Currently, there are thousands of troops returning home from active duty and we, as Americans, cannot allow these soldiers to face hunger. We cannot allow their families to struggle with putting food on the tables after they have given everything to protect us.  Our soldiers should not have to fight hunger!
Across the nation, Feeding America members, like Harvest Hope, feed more than 40 million people each year. According to Feeding America's data, twenty percent of the households served include someone who has served, or is actively serving in the United States armed forces. Today, approximately 7 percent of active-duty service members, more than 90,000 individuals, face food insecurity. (Feeding America)
These numbers can be shocking, especially because here in South Carolina, military members and their families make up a large portion of our communities. There are currently eight active military bases in South Carolina. These bases not only train the brave people that protect our country, but also provide economic growth for the areas that surround them. According to NCLS, the presence of military operations in South Carolina has supported 138,161 jobs and $15.7 billion in economic spending, which results in positive economic impacts for the state. So how are we failing to adequately support these service members who do so much to increase our own well-being?
There are several root cause issues as to why military hunger has become prominent across the country. Military service requires a lot of mobility from a family. On average, military families are relocated every 2 or 3 years (National Conference of State Legislators). Families have little control over which base they are relocated to, which means they sometimes end up in cities or locations with a cost of living that is outside of their budget, making it even harder to make ends meet. This can also make it difficult for military spouses to maintain a career path or establish themselves in a workplace. For many military families that have several kids, one salary may not be enough to cover all the family's needs. 
If a family lives off base, it may be more difficult for them to qualify for SNAP benefits. Families that live off base receive a Basic Allowance for Housing (BAH) to help cover the housing costs where they are asked to live, but the BAH is calculated into their SNAP eligibility. This can make it seem like a family has more wealth than they do and cause them to miss out on the SNAP benefits that will help provide food for the family.
All the factors that make it difficult for some active service members to provide food for their households, also affect veterans. The effects of stretched income and frequent moving make it difficult to build wealth that helps prevent food insecurity when service members retire. Without much in savings, it is difficult for veterans to make ends meet, particularly when they no longer have the benefits that come with being on or near a military base. Many veterans also face mental health issues, and trauma, from their time in service. This can make it hard to maintain a job or salary that would provide for a family post-service. 
No person or family sacrificing to defend our country and our freedoms should need help with one of the most basic needs to survive. Food banks and food pantries are providing immediate, on-the-ground assistance to these families facing food insecurity. Giving time or resources to your local food bank is a great way to support veteran and military families in need. But we can also do more. 
Feeding America is doing important work on behalf of the 200 member food banks, to advocate to create a Military Basic Needs Allowance, that "would provide a monthly stipend to service members whose income is below 130 percent of the Federal Poverty Level (Feeding America)". This would give military families the little extra that they need to cover their necessities and prepare for the future. 
This November, I encourage you to take a moment to reflect on the battle against hunger that many of our military members and veterans must face here at home. It would break my grandfather's heart if he knew that the grandchildren and great grandchildren of the men he served with and fed in the POW camp, now struggle to feed their own families after serving our country. You can join us in stepping up to serve those who serve us by telling congress that no military service member should struggle to get food on the table. 
You can spread awareness about military hunger, and remind those around you that it's okay to ask for help. Together, we can unite and provide for the brave soldiers who are willing to sacrifice everything for our freedom.