A Partnership From The Ground Up
Feb 15, 2023
During Black History Month, Harvest Hope Food Bank would like to not only like to shine a light on the realities surrounding black hunger, but also share the partnerships we're building with minority farmers to create lasting connections for neighbors in need. 
According to Feeding America's internal research, hunger is known to disproportionately impact communities of color. In 2021, nearly 20% of Black individuals experience food insecurity – a percentage that was more than three times the rate of white households. This number is so starkly different because the Black community faces hunger at higher rates than their white neighbors due to social, economic, and environmental challenges. These challenges stem from root causes such as discriminatory policies and practices, racial prejudice, lack of access to economic resources and opportunities – all of which contribute to elevated food insecurity. Examples of elevated food insecurity can be found in plain sight: poverty, food deserts, high food prices, and more.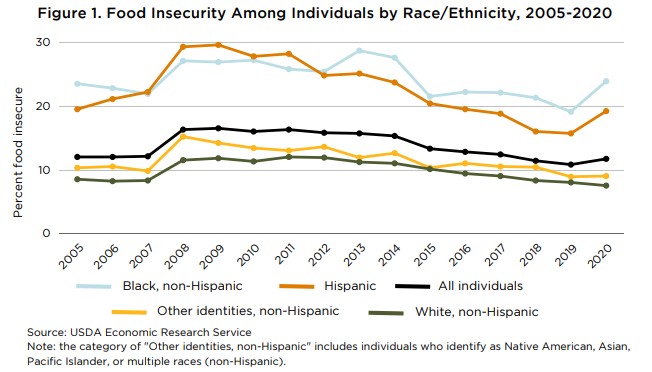 The Facts of Black Hunger:
What is Harvest Hope doing to help?
As we build a hunger-free tomorrow, we also want to build sustainable resources and communities to feed our neighbors. With this in mind, Harvest Hope is partnering with minority farmers throughout our 20-county footprint to create micro-logistic hubs to help distribute our state's amazing produce to neighbors in need. This partnership will allow farmers to grow produce and fruit on a smaller scale in their hometowns, where we will then connect them with one of our partner agencies in the area to receive the products. This ensures that the products stay within the community and they're able to grow a variety of items throughout the year – which also enables us to provide a fresh variety to our clients in need.
Not only does Harvest Hope have local farmers that we can rely on to provide access to produce for our agencies and clients, but this partnership also allows for the farmers to rely on Harvest Hope and our connections as an outlet for their products to be purchased – allowing them to be both operational and thriving. 
Local, family owned, minority farms are at the root of many South Carolina communities and we're so glad to partner with them to feed those in need.